Page 3 of 3 •

1, 2, 3

"Queen!" Galdrina yelled, thinking on her feet (well, sprawled across someone's lap). "Intervene! This is against the rules!"

Queen Syndra rose. The crowd went quiet, and even the women in the arena were still in anticipation. What would the Queen say?

"As much as I'm sure we were all enjoying the show, I feel that the Elven fighter is right." Syndra said, her voice echoing through the arena. "Zaleria, you've overstepped your bounds. I do not allow you into the arena to punish victors! I think that a punishment is in store."

Syndra snapped her fingers. To everyone's amazement, Galdrina and Zaleria had switched places. Galdrina was sitting, Zaleria was over her lap.

Galdrina blinked in confusion, then smiled at Zaleria.

"Oh, it's on bitch!" She whispered. Then she raised up the icy paddle. She brought it cracking onto Zaleria's covered backside. Her garment froze on impact as Zaleria gasped at the cold. The next impact shattered the garment, revealing her panties!

Strike three froze the panties. Strike four shattered those, revealing a smooth backside.

"How dare you!" Zaleria screamed. "I'm a Queen!"

Whap!

"AHHHHHH!" Zaleria screeched as the paddled frosted her backside. It was freezing!
((This is turning out quite fun))

Zaleria protested as the paddle chastised her backside. "That's--that's coooold!" Galdrina had a giant smile as she humiliated this haughty queen.

Eleanor looked nervous. She didn't wish to draw more attention to herself. But now, Zaleria was in trouble. She could do little about that, since Queen Syndra had been the one to reverse the situation. She also didn't want to let Veera get away with less than she deserved.
Veera squealed and squirmed away as fast as she could crawl from Eleanor. Queen Syndra had intervened, why wouldn't they just stop!? She waddled, still giving some shocking views of her nethers.

Meanwhile, Galdrina was up to 20 spanks on Eleanor's bare ass, and showed no sign of stopping. The burning cold made Zaleria scream and squeal as her backside was worn black and blue...
Last edited by splotch on Mon Jan 16, 2017 6:08 am; edited 1 time in total
((I think that last sentence meant Zaleria))
Zaleria whimpered.  Her eye makeup was smudged down her face due to the tears.  The pain was bad, but the humiliation was worse, knowing that she could put this uppity elf in her place easily if Syndra hadn't been there to stop her.  She wiggled her bruised backside as if to escape the swats of the paddle, but to no avail.

At the other end of the arena, Eleanor had cornered Veera.  Sure, Zaleria might have overstepped by spanking the victor, but that didn't mean the gambler could welsh on her bet.  She climbed onto her back and grabbed the pigtails like reigns, riding her back to the center of the arena, giving her backside a few bare-handed spanks to get her going.

Hilevi was watching Zaleria take the spanking with a sense of excitement and vindication.  She turned to see Eleanor, Zaleria's consort, riding Veera on all fours to her.  Veera had just given her quite the spanking, but Zaleria had ordered it, and Eleanor's magic had helped enable some of the humiliations here, although more Veera's than hers.  She felt like taking action for one side or the other, but she was torn.  Riding as she was, on an unwilling steed, it would take very little for Hilevi to knock Eleanor on her ass, allowing Veera to turn the tables.  But then again, she owed Veera a spanking.
Galdrina finally grew tired of the spanking. She was damp with sweat now, her fury finally diminshed.

"All done." She said. She rose, sending Zaleria sprawling on the ground. Zaleria lay sobbing, face in the dirt, tender bare butt pointed up.

"Now, what to do with this?" Galdrina said, holding up the paddle. "Oh, I know just where to put it!

With that she reached down and shoved the paddle between Zaleria's legs through the whole in the butt of her clothing, wedging it right between her thighs.

"AAAHHHH!!" Zaleria screamed, leaping up as the frosty paddle wedged between her pussy lips. The cold shocked her most sensitve area, instantly freezing all the hair she had down there. Zaleria ran around in utter shock.

"Mistress!" Eleanor called out. Seeing the trouble she was in Eleanor leaped off Veera and ran to help. Veera took this chance to crawl away, still bound. Looks like Hillevi had missed her chance there, though Eleanor and Zaleria were still present...
Hilevi shrugged and found her way out of the arena. Eleanor was panting trying to keep up with her slimmer girlfriend who was running around frantically. "Stop! Let me help you!"

She finally caught up to Zaleria, and grabbed Zaleria's dress to try to extract the paddle, but Zaleria wouldn't stop running, and soon her dress was dangling from Eleanor's hands, leaving her in a black bra and black briefs decorated with roses, with a large hole in the rear, out of which the paddle protruded. Its handle jiggled comically with the movement of her body as she bounced about, here and there. Eleanor shot Galdrina a dirty look, and ran after Zaleria, who was making her way out of the arena in a series of short sprints and bouncy hops, shouting things like, "Well, I never!"

The audience, both royal and common, applauded for the turn of events. This had been a truly entertaining match.

((I started on pics but haven't gotten too far. Soon, maybe, it depends how my weekend goes.))


Sorry if this lobster isn't that realistic. Lobsters are very complex shapes, hard to make in 3D and expensive to buy.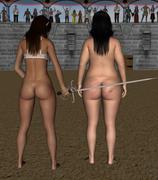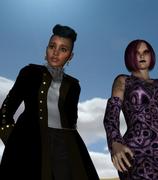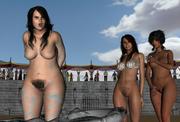 (great pics! I love the transition with Veera. Excited to use this new sponsor more! Galdrina looks great too.)
((Well, she may have something against Zaleria after this...too bad if she shows up at the battle royale...lol....))
Page 3 of 3 •

1, 2, 3

---
Permissions in this forum:
You
cannot
reply to topics in this forum