Page 5 of 5 •

1, 2, 3, 4, 5

Niniane looked down at her cards and sighed.  "Well, I objected when the deck was enchanted, but this time, I seem to have lost, fair and square.  Just allow me to stand over where it's warm to do this."

The barmaid got up and stood in front of the fireplace.  She didn't really relish the extra light being thrown on her, but she had felt a little cold all day, even with her clothes on.  Then she looked down at her worn leather boots, and imagined how silly she'd look if that was all she was wearing, so she bent over to take them off first.  Removing the cloth that served as both as an apron and a dishrag from the front of her skirt, and throwing it aside, in a mock striptease, she started to unlace her corset.  Many women would have partially unlaced it, then slid it off, but the generous proportion of her breasts and hips meant she'd have to take the lace out entirely.

For such a confident woman, her face looked worried and she bit her lip as she removed the final bit of lacing, and dropped the garment to the floor.  Even with her shirt still one, one could sense her large breasts hanging lower without the support of the corset, and her waist, which didn't look small tucked into the garment, now also looked considerably bigger.

As she removed her simple linen top, a blush crept across her features.  She had been exposed in the arena before, but as humiliating as that was this was so much more...personal.  She felt like she was about to be judged by people she'd been sharing a friendly drink with, moments ago.  And she was surrounded by coworkers who might walk in at any time, or regular customers who might get a glance.

As the shirt came up, it revealed her soft, flabby stomach, that gently folded right around her navel.  Then, her large, fleshy breasts, with large light pink areolas.  She grimaced for a moment when she thought about everyone examining her stretch marks close up, but she pushed the thought out of her mind so she could continue.  Having revealed this much, Niniane wasn't about people seeing the patch of hair under her arms, but she still had to remove her skirt and panties.

Although she was inclined to delay at first, she realized the sooner she did it, the sooner she could return to her seat and at least remove some of her assets from display.  Almost franticly shoving her hands into the waistband of her dark green skirt, she dropped it to the floor and kicked it away from her.  

As she reached down to remove her flower-print panties just as quickly, Christie made a gesture as if to say, "Not so fast.  Spin around for us and let us see them."  Niniane begrudgingly obliged.  If her backside looked large in a dress, it looked gargantuan in this pair of stretched flowered panties that were riding up on her in a way that seemed awkward, if not downright painful.  

The flesh of her bottom jiggled comically as she bent over a little to remove the panties, not bothering to look back at Christie or her companions to see if they were satisfied with her little spin.  This resulted in essentially mooning the audience, and it was a moon like few had seen, even those who had lived as long as Christie.

Shyly turning back around, Niniane reflexively placed her arms around her to cover herself.  On seeing the looks of disapproval, her arms dropped to just below her breasts, where they could provide some support.  She seemed too embarrassed to care that her full, natural bush was now on full view.  

Looking at the other girls as if asking permission to take her seat, she slinked back and sat down gently on the soft leather of her chair, which from the expression that passed her face when she did so, must have felt quite cold. Dipping another finger in the pie on the table as if in denial that anything had happened, she remained quiet while the other women began discussing Velatha's dare.
((Sorry I didn't show the hands on Christie's throne, I'll work on adding them for the next image set.))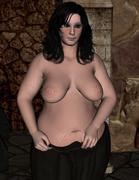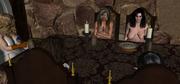 Ninianne could feel the Grey Witch's lusty eyes drinking in her embarrassment as she gradually undressed. She didn't move much or shift in her seat as she had been, though the icy hands continued to idly molest her, it seemed, she merely moved a knuckle up to her lip to bit it a bit and hum.

"Mmmmh," she hummed aloud at length. "What lovely curves. And I do so adore the natural look," she purred, narrowing her eyes and staring at her bush before looking to Velatha suddenly.

"Well, I believe you're due for a dare, sleek one," she said. "Shall we make her do something silly and demeaning?" the witch giggled, looking to the others. "Or shall we make it a bit more... sensual?"

"If someone doesn't have a sexy dare involving one of those magic pies sometime soon, I'll be quite upset," she said with a dry but humorous smirk, trying to fold her arms over her chest in a huff, only to have to fight against the ice arms coming out of her chair to do so.
Admin




Posts

: 632


Join date

: 2014-06-21



((soo... there's been a little bit of a lull lately -- I'm guessing everyone, like me, has been pretty busy. I plan to get a lot of posting done this weekend, but also possibly tonight and tomorrow. I've been putting it off a bit, I admittedly realize I may have burned out a little bit. That said I think it was a fleeting thing and plan to do what I can to keep this forum active. Launching the high seas adventure officially soon and have some arena fighting to do as well...
Regarding the winter festival -- I imagined the thread would run through January probably, before reaching conclusion. How's about we all pick our numbers and formulate a dare for Velatha..?
Christie will go with the number 66 for her next draw. ))
Admin




Posts

: 632


Join date

: 2014-06-21



Niniane smiled at the mention of the pie on the table, "It's really good, Velatha.  I think you should eat it, all of it, with your hands tied between your back.  No magic, no tricks.  If we aren't satisfied, you'd have to sit on it in just your smallclothes; of course, if you didn't also get the strip card, you could re-dress then, but I don't imagine you'd want to. Anyone else have a dare?"

Niniane seemed to relish the idea of spreading the humiliation around a little, so it wasn't just her and Tracer.  Well, and Christie, but the Grey Witch seemed to be weathering her situation in better spirits than the two nude women.

She tentatively picked a card, and had another sip of mead.
((picks #99))
((Anyone offering a different dare or picking a number?))
Page 5 of 5 •

1, 2, 3, 4, 5


Similar topics
---
Permissions in this forum:
You
cannot
reply to topics in this forum